I've assisted with the Winter Park Paint Out, organized by the folks at The Polasek Museum, for several years now.  As fond as I have become of that event, I have surely been overdue for a visit northward to check out the similar event held annually at Wekiva Springs.
Going on now through Saturday, this is the perfect event to wet your Art whistle for next week's Winter Park Sidewalk Art Festival, as one of this year's participants is Elizabeth St. Hilaire, the Artist featured on this year's poster! And after seeing her works from the paint out, feel pretty safe in saying you will be as tempted as I was (AM) to own an original!
First, I will admit that yesterday is the first time I have ever been there. After seeing just how beautiful it is, I am more than a bit ashamed. It is truly a LUVly, perfectly natural Florida environment. In the few hours I was there, I got to see lots of wildlife, including numerous bird species, turtles and, yes, one four or so foot long gator! Yeah, seeing certain wildlife never gets old.
I arrive at the site yesterday and am immediately greeted by one of my favorite plein air painters, and frequent Winter Park Paint Out participant, Charles Dickinson. His works are always extraordinary and I may have accused him once or twice of including something other worldly in his paints, as they always seem to have an unnatural luminosity.
After parking, I made my way in and immediately began encountering other familiar faces, their recognizable styles on canvas.
First, painting along the river, I saw Michelle Held, Artist for this year's Winter Park Paint Out poster. She was quietly painting, as she described it, "the bridge to nowhere," a structure on the property which was built and then never used . . . . not a single car as has ever crossed it. Yet, it is now a LUVly subject for an Artist, a unique landmark for kayakers to row beneath, coming and going.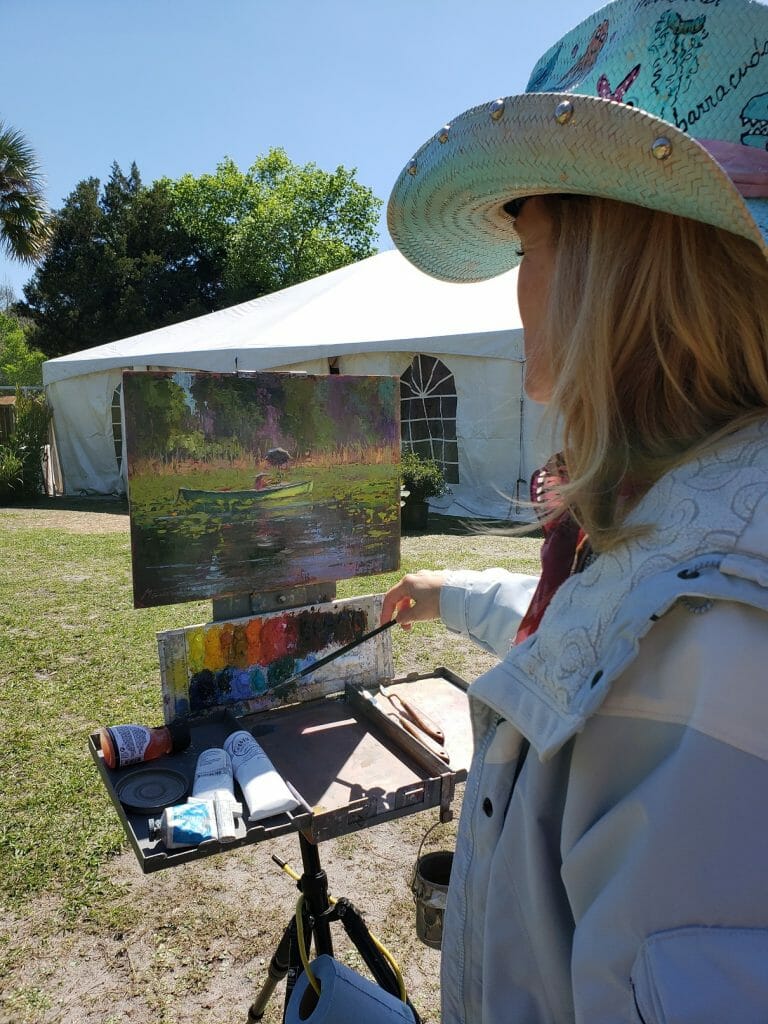 Then, there was Manon Sander. After a big hug, Manon was soon singing the praises of Mary, one of the co-owners, and the Wekiva Paint Out.
"Wekiva is a benefit paint out to save the beautiful Wekiva river and its flora and fauna," she shared. "It is one of my favorite painting events not just because of the stunning beauty of the area but also because of the wonderful organizers, Mary Sue and Bill Weinaug who treat us artists exceptionally well."
Artists stay in rustic cabins in a state park, along with their peers, can take out canoes or get a boat ride to off the beaten path painting locations. Yep, cool!
Says Manon, "I love the camaraderie."
During my brief visit I hung out watching Artists, taking photos of the environment, ate at the food truck . . . which was quite good! I had the blackened mahi sandwich, in case you wish to try.
Each year I sooooo look forward to the Winter Park Paint Out at the Polasek Museum. It takes place this year from April 21 – 27. For me, it is one of my favorite Winter Park events because it is Art which is ENTIRELY inspired by / a reflection of our Local environment. Additionally, you don't just see it after completed, but can easily see pieces being worked on, developed from blank canvas to hanging in the Polasek, ready for its lucky owner.
The Wekiva Paint Out operates in many of the same ways, including a Paint IN on Friday evening. Thinking about attending that one myself! What a perfect environment to enjoy the sunset while sipping wine and watching these amazing Artists at work!
So many buy Art from these Artists in Winter Park. If you want to check out something a bit different, I can tell you the tent at Wekiva Springs is filled with gorgeous works!
Check out more on the Wekiva Paint Out here: https://wekivapaintout.com/
More on the Winter Park Paint Out here: http://polasek.org/wppo/home/
Plein air style painting has become my favorite. The more you see of these amazing Artists, their LUVly creations, you may begin to feel same.