Winter Park & Park Avenue are the ideal backdrops for a LUV story! One goal with I LUV Winter Park now will be to share them, celebrate them.
Somehow over the last several years, simply from an Instagram account and Facebook pages, I've been asked to participate in / attend Local weddings for two British couples. One of these couples was Nicole & Simon.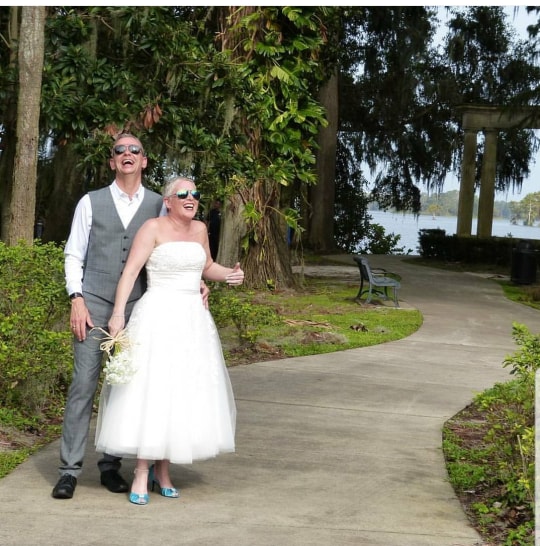 I'm not sure how long they'd been following on Instagram, but one evening I had a message asking for suggestions for a great Winter Park location to exchange their vows. I suggested a few and they settled on Kraft Azalea Park. Before they made their trip over, I received a message asking if I would meet them there, as they wished to say Hi.
Everything sounded so LUVly until Hurricane Irma set her sights on the Sunshine State. In the aftermath of the storm, running here and there recording and posting about damage, trying to help get the word out about the city's efforts to restore power and remove trees and other debris, I nearly forgot about their LUVly invitation to join them in Kraft Azalea Garden.
I remembered just in the nick of time, looked back at the message and found the time had actually just passed. But I jumped in the car, headed to Kraft Azalea Garden to see if I might catch them. I get there and, of course, there are a few trees down, lots of brush all about. I remember being certain they would not be there.
I think I actually just started taking photos of the downed limbs and such until there, off in the distance, behind downed limbs and debris, yes, a woman in the white dress, over by the column structure along Lake Maitland.  I went over as they were posing for photographs.  I introduced myself and the warm, friendly welcome made me forget all about the devastation I had been focusing on around town.
I took a few pictures myself, then asked, as they were perched atop the base of the structure for a photo, if they might like to do a video.  It is now a video I share often, recalling that wonderful afternoon post Hurricane Irma when four Brits, two in LUV, lifted my spirits by reminding me just what a LUVly, wonderful place I get to call home.  In one take, they could not have gotten more right if we took 50 videos. (See the video on Instagram with #WPLUVStories.)
From those who grow up in Winter Park and never leave, to visitors who pick it out because of a prior visit or from LUVly photographs they see online, Winter Park has an atmosphere, a charm which acts as a catalyst for LUV stories, inspires them.
I'd LUV to hear yours. Share them on Instagram with #WPLUVStories and I may be contacting you to learn more, spotlight it here.